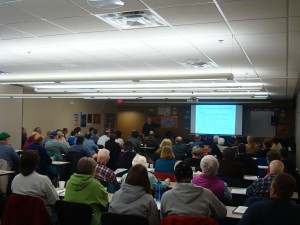 Last Monday, I had the opportunity to attend a farm business and estate planning seminar hosted by Riverland Community and Technical College and Minnesota Extension in Austin, MN (Mower County).  As you can see, it was very well attended.
It was a great opportunity for farm families to begin thinking about transition plans to move the agri-business from one generation to the next without losing the farm or paying out the nose in taxes.  We also discussed estate plannings, including wills, trusts, and other ideas for ownership transfer.
I was glad to attend and have the chance to talk more with farm families about their estate planning needs.  Every situation is so completely unique, and every set of circumstances is important to the farm family living it.
We all know farming is a risky and dangerous occupation.  If you haven't begun thinking about estate planning and transitioning your farm, now is the time, no matter your age.
Social Share